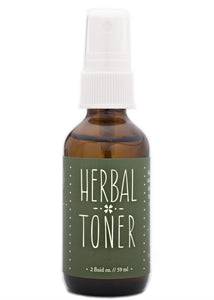 Herbal Toner
Regular price $15.95 Sale
Toners are often skipped in a typical skin care routine, but they are so important!
After cleansing, your pores are soft and open... but you don't want to leave the house that way or you will easily allow impurities into your skin! Toners tighten the pores, balance the pH of your skin and restore the protective acidic layer on your face. This lovely toner is made with organic, botanical extracts that support the health of your skin including Rose, Lemon Thyme & Chamomile. It is supportive for all skin types.
Instructions: After cleansing, spray the face a few times with the herbal toner and then apply your Rose & Carrot Face Cream or Nourish Your Face Serum.
Ingredients: Organic Witch Hazel Extract, Organic Rose Hydrosol, Organic Lemon Thyme Hydrosol, Organic Chamomile Hydrosol, Organic Glycerine