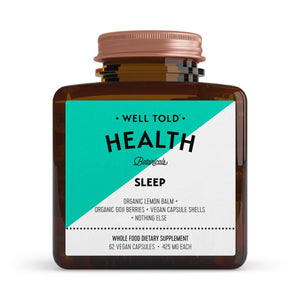 Sleep Capsules
Regular price $24.00 Sale
An all-natural non-habit forming sleep aid that relaxes the nervous system so you can fall asleep and stay asleep.

Ingredients in each vegan capsule:
ORGANIC LEMON BALM: Well known for its sedative properties and as a sleep aid. ORGANIC GOJI BERRIES: Among the highest concentrations of melatonin among edible plants.

WHY TAKE IT If you experience restlessness or occasional sleeplessness due to mental stress. If you are looking for a natural sleep aid that is not habit forming.

Each recyclable bottle contains 62 vegan capsules which when taken daily is a one-month supply (Take 2 capsules daily).