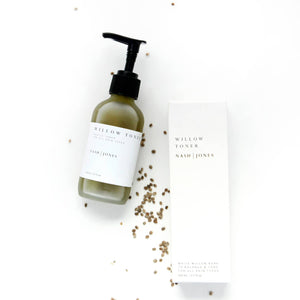 Willow Toner
Regular price $38.00 Sale
Willow Bark extract is packed with skin-enhancing vitamins and minerals and is an anti-inflammatory powerhouse, amazing for clearing up acne and soothing irritation. It's also a natural exfoliant, making easy work of blocked pores, penetrating them and obliterating the gluey mix of sebum and dead skin cells.

Ingredients: Organic Aloe Leaf Juice, Organic Alcohol, Organic Glycerin, Organic Peppermint Leaf Extract, Organic White Willow Bark Extract, Organic Sugar Cane Extract, Organic Bilberry Fruit Extract, Organic Sugar Maple Extract, Organic Orange Peel Extract, Organic Lemon Peel Extract, Organic Cranberry Fruit Extract

3.9oz in a frosted glass bottle. 
Made in
United States of America